SOUTH INDIES TEXT & MUSIC PUBLISHING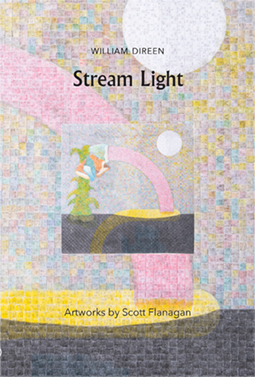 Stream Light Cover FRONT LOW RESOLUTION.jpg (136Kb)

Stream Light Cover FRONT HIGH RESOLUTION.jpg (2.7MB)

ISBN: 1-9911671-3-X
EAN13: 978-1-99-116713-2
Dec 2022, 72pp., soft cover, RRP $22
usual terms for trade.
Trade Orders

See also companion volume Seasons.
Stream Light begins with Direen's life in Dunedin, New Zealand, after his shift there from the small rural town of Middlemarch (described in companion volume Seasons (2022)).
He then takes us on a read through the suburbs and CBD of Dunedin ('Skirting'), with visits to regional Otago and Canterbury (Oamaru, Tekapo, Cave and Pukaki). But behind much of the book lies the city both Direen and artist Scott Flanagan once called home - Christchurch, New Zealand. Detailed Notes make up a kind of autobiographical novella going back to the 1970s. Flanagan has also provided notes to his artworks, some completed after his recovery from cancer and its treatment.
As you will discover, both William (Bill) Direen and Scott Flanagan have more than estrangement from their home cities to deal with. Their works deal with grief and the steady accumulation of bereavement the longer one lives, the passage of time, illness and treatment, not forgetting health and, as with Seasons, the wonder of life, local light and nature.
Bill Direen bio
Anticipated RETAIL OUTLETS:
Auckland: music's friend Flying Out, 80 Pitt St, Auckland 1010. (other products available, eg Memory of Others OST with download of the documentary by Simon Ogston))
Wellington: Unity Books, 57 Willis St, Wellington 1011.
Nelson: Volume Bookshop, 15 Church St Nelson 7010.
Christchurch: Scorpio Books, 120 Hereford Street, BNZ Centre, Christchurch 8011.
Dunedin: UBS Otago, HD Skinner Annex, Otago Museum Reserve, Dunedin 9016.
Pea Sea Art Gallery: 6 George Street, Port Chalmers 9023/
To request a research/review copy please contact us.